A Happy New Year !!

Our Christmas Sleigh collections were in aid of Medical Equipment for Fareham Community Hospital.
Many thanks to all our Friends who helped us with the sleigh collections, and of course to Santa !!.

We are also hosting a Burns Night on February 25th, with the profit adding to the medical equipment fund. For more details use the 'Contact Us' button above, or telephone 01489-584718

Swanwick Lions Club Autumn Newsletter
Select the link below to view the pdf:-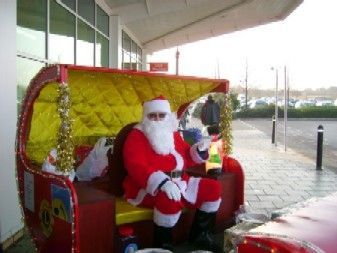 _____________________________________________________________________________________________________________________________________________________________________________
Hurricane Matthew affected several areas, including the Caribbean and the United States. It was the deadliest hurricane in the Atlantic Ocean since 2005. Many main roads are impassible and many bridges have been washed away. Food and drinking water are in short supply and many of those who need aid the most are still waiting for it to arrive.

When disaster strikes, Lions are among the first to offer help to the victims, even though they are often victims themselves. Lions Clubs International Foundation (LCIF) is right there beside them, ready to support their efforts with funding assistance through Lions disaster relief programs. Working together, LCIF, local Lions and Lions leaders assess the urgent needs and quickly deliver the aid most required by victims.

LCIF awarded an initial Emergency grant to Haiti to address immediate needs of disaster victims. Lions and Leos from Port-au-Prince traveled to Petit-Go've to work with clubs there. Together, they have packed and distributed over 2,000 relief kits of medicine and food to residents in need.

LCIF has also awarded an Emergency grant to the Lions of 31-N in North Carolina, USA. Lions there are braving the conditions to bring much needed food, water, blankets and medical supplies to those affected most by the storm. More updates about the relief work there is forthcoming.
The situation is dire, but Lions are working to bring hope to their neighbors. If you would like to donate to this relief work, please contact us.
For further details please use the 'Contact Us' button on the Menu Bar, or:-

or telephone:0845 833 4359