Tomorrow- Bank Holiday Monday- It's that time again- the Annual Duck Race at Mansbridge. There is no entry charge, but tickets are for sale at £1 each. The ticket is the number of one of the ducks, and could win you £250 if your duck is the first over the line at Woodmill !!

Thousands of plastic ducks will be dropped into the river at 14:30 prompt, so arrive early to buy your tickets!!
Come along on Bank Holiday Monday, August 29th, and enjoy a great afternoon out.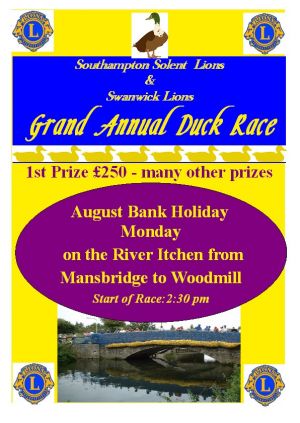 For further details on the above events please use the 'Contact Us' button on the Menu Bar, or:-

or telephone:0845 833 4359